No main roads here, well just a few to cross from wiggly to wiggly.
There were 12 bikes set off from Squires that sunny Sunday morning and one pillion, Debbie (welcome back) with Dave Mitchel and Denise a friend of Al's, welcome too.
We all expected an adventurous and well constructed route from Paul and by Jove it was so!
Setting off from the Strawberry Fields cafe in Crockey Hill (A19 near York) we took a well familiar turn across to Wheldrake & Elvington and struck across country crossing the A1079 (Hull road) via Yapham and Bishop Wilton before joining the A166 (Bridlington Road) for a wee while (as mentioned before) before meandering across country, almost no habitation in sight.
We crossed the B1248 at Warram Percy (now this B road is one of those emanating from the roundabout adjacent to the famous Fimber Cabin tearoom and is 1 of the 2 delightful sweeping roads in the area).
Dropping onto the unnamed but locally well known road that travels through the illustriously named Kirby Grindalythe and can end up in Hunmanby near the sea if you let it, we actually popped into a new (at least to us) cafe and farm shop in Weaverthorpe called ??? It is quite a charming place and because the weather was benign we sat out in the mini court yard to take a T&P break. The Service was a bit slow and even a little forgetful but the fayre was pleasant enough and so were the staff.
Our dedicated (to minor and wiggly roads) leader left Weaverthorpe to cross yet another main road the A64 @ the other Sherburn and flowed up to the A170 (Scarborough road) on which we did indeed travel for a few miles before striking off in to the hinterland again, phew ;-).
The next phase of the route was a bit more on the challenging side and through superb countryside on roads which were unknown to some and only partially to others. Places
such as Wrench Green, Langdale End (not in Cumbria), Bickly Gate and so on and through the Dalby Forest, did you know that Motorcycles are not charged for riding through this quite beautiful forest now?
I must say riding sedately through this forest (it really is bigger than you think) is a very calming experience, well it was to me anyway.
Now I have to admit that we did travel the A169, Pickering to Whitby road, for a little while but with very little traffic on it for a change it has it's interest, but at the Goathland turn we swung left and the challenges upped themselves a little bit. Skirting the famous tele village we climbed, dived and wiggled our way up to Egton Bridge and did the same again West through Glaisdale and finally heaving up to the Cycle Hub at Great Fryupdale. If you've never been there, it's worth a visit, very friendly staff, friendly cyclists for the most part, very decent scranner and a fantastic view over the Dale.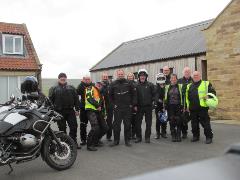 Here is the piccy of the triumphant team (do not ask what happened for the old giffer to be bent over in the 'timed' piccy!). There is another bloke who joined us, sporting a beard, central back of the pic, but at this cafe, who was a friend of one of our number. I think he was called Douggy or something like that, cheerful chap he told me he had 5 kids and over 20 grandchildren! I said he most have been an energetic young man, he replied he was very popular, make what you like of that conversation ;-))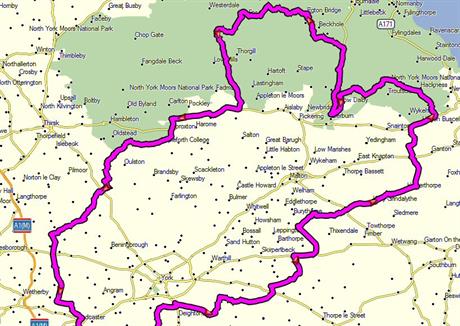 Anyway in the map of the ride home, Al's version, it doesn't show the almost obligatory trip down to the Fimber Cabin tearoom (don't know why it's called that, there is no inside to be had for the punters).
A grand day out in the true fashion of T5 members having fun.
Thanks to Paul for leading a most enjoyable, inventive and intriguing ride, and to the old lad at the back ;-)
Tootle pip
Pete