Well it wasn't a promising start, after the T5 End of Term mtg it was still a bit wet @ Squires but were we put off? Not at all as 9 bikes actually set off in the rain (some called it sleet).
Chris who was leading the intrepid team briefed that as going East would only be more miserable we proposed to go North & West.
The 1st stop was to be @ Ripley Castle tearooms, ice cream immediately came to mind and just as suddenly was ruled out hat with it being such cold weather an'all, at least it wasn't too far I thought, just shows what I know, it took over an hour because of the nature of the route. It was great, lots of different different roads, see the route piccy below.
The exit from Squires was normal enough down to Tadcaster heading up to Wighill, across following the river Nidd to Little Ribston and up the B6164 almost skirting Knaresborough. It must have been only about 5 miles to Ripley at that point but that wasn't long enough for our intrepid leader, we briefly joined the A6055 near the golf club but swung up past the sailing club lake swinging left & right up & down until we very briefly joined the A61 then right through Markington before sweeping down joining the B6165 into Ripley. Here we managed to execute the 1st of some remarkable U-Turns, oh yes we did ;-).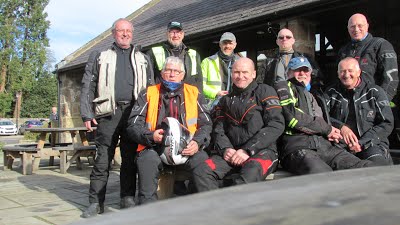 The tearoom was pleasantly warm after the arctic conditions of the 1st tranche, oh and it had stopped raining before then, so the refreshments were very welcome. Here is the happy band.
The temperature had now risen from 3 degrees to 5 so great improvement.
2 bikes left us at this point so the rest rode on, curious to know which way we were going to get to Manor Cafe.
Setting off to find out, we executed.....yup another U- Turn but this was a real goodun, stopping to unlatch a gate we trundled past a number of surprised walkers, dogs and cyclists until the track which at that point had been paved just became a track without paving, oops had to turn round DOH!
Anyway recovering our direction we swept out of Ripley on the B6165 and up to and though Brimham Rocks, real nice little wiggler that. Turning left briefly onto the B6265 at Fellbeck and then right again cutting out Pateley Bridge to join the absolutely brill road round Gouthwaite reservoir up to Lofthouse. Somewhere on the Pateley circumnavigation between Fellbeck & Wath there was a pretty vicious descent, 1st gear engaged, that was made even more interesting by the drainage gulleys straight across the road!
Turning steeply right it was over the Dale and down to Leighton reservoir then up again and through a village curiously named Ellingstring, I've often seen a sign to it from the A6108, and guess what we finally descended steeply onto the 6108 up through East Witton and Middleham to Leyburn and swept up to Manor.
New owners are bikers and know what bikers like, lotsa bacon/egg/sausage related stuff and meal of the day, this was cottage pie (big plateful).
The sun had come out and temp up to 6/7 degs, brilliant, positively warm!
We inevitably whizzed down to Brymoors for pud and then home.
Here's the route (click for larger view):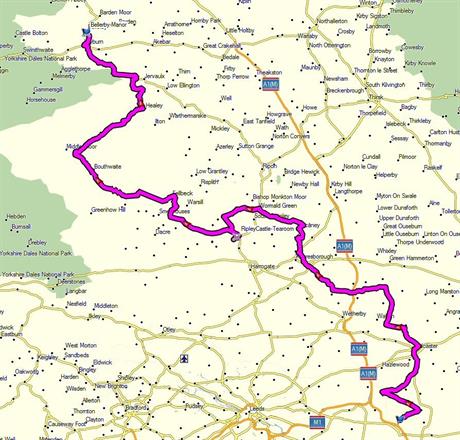 Thanks to Chris for leading this one and to Alan for sweeping up, brilliant ride especially considering the weather.
Tootle pip
Pete