A good turn out of members again even if the weather was a little grey and the roads slightly damp, but a reasonable 11
0
C, and after a little pressure Steve Harrison stepped up the the plate as planned to lead 11 eager riders to Masham via Tasty Snacks Cafe at Boroughbridge.
Team brief given and (a not very confident) Steve gathered the group and with a left out of Squires away we went onto the old A1 and right toward and through Micklefield, Aberford then back over the A1 and left down towards Bramham, a quick left - right had the team now heading to Wetherby, here we did a couple of right turns and found ourselves heading back toward Walton & Thorpe Arch, then a left onto the now familiar and much used route toward Cattal. Once through Cattal (still with a threat of 3,000 homes ??) it was over the A59 and onto the B6265 toward Boroughbridge, with a decent pace set by all it was all to quickly over as we carefully turned into the rear car park of the Tasty Snacks cafe being careful not to look left on the way in ( big drop into the stream below )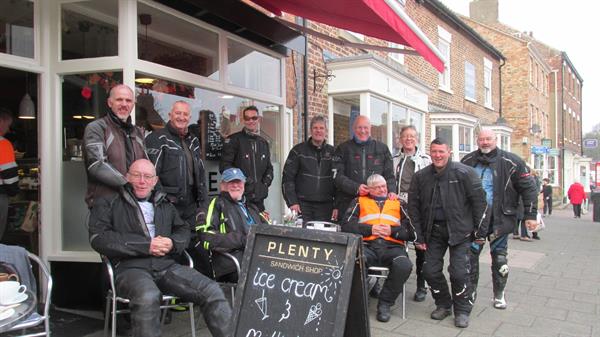 Suitable refreshments taken outside in the weak sunshine and the team piccy taken by the kind young lady from the cafe, Steve (sat Nav issues) passed the second part of the ride over to Deputy leader Chris Otter.
On leaving Boroughbridge we had one of our numbers depart so 10 riders again set off in brighter and improving conditions for Masham.
Left onto Horsefair then a right towards Minskip, right again toward Copgrove ( seems to be a day of right turns ) another right toward Bishop Monkton, then a Left ( yippee) onto the A61 before another Right turn toward Markington, then the wonderful twisty roads to Sawley & Risplith where we came to a halt while I presume the Sat Nav caught up as it looked like we were taking a left onto a track, but no after a short wait and a further 50 mtrs up the road the correct left turn taken toward Grantley and onto Kirkby Malzeard, Grewelthorpe, a right turn in Warthermarske then led us onto a nice twisty section ( Rigg Bank ) with a steep twisty downhill section when - loathed by some - relished by others the sign appeared "FORD" and after a steady approach down the steep incline suitably covered in wet leaves everyone approached and successfully navigated the ( not too deep but Cobbled ) "FORD", along a bit further and we stopped again at a triangle junction while said SatNav again caught up leaving the front half of the group a tricky tight left turn while we at the rear had a simple left turn, and onwards and upwards to take a ( Difficult ) Right turn for the last little run into Masham for well earned refreshments and sustenance.
A great days ride with skill levels tested and handled with great aplomb by all, thanks to Steve & Chris for leading and Alan Riddington for rear marker duties.