The reason there are 2 destinations in the title is because Manor Caf was planned but was shut, so Hawes it was.

This was to be last Team 5 ride for 2018, and saw 7 eager riders led by Dave Hardcastle set off from squires on a dryish and very blustery day, ready to use up some energy after the Christmas feast.
With a right out of Squires ( Pete Tidball taking the Grand Depart photo ) and a decent pace saw us soon arriving in Tadcaster and with little traffic and small numbers it allowed the group to stay together with minimal marking needed.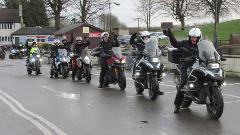 Through Tadcaster and onto Wighill, a left to Thorpe Arch then a right toward Cattel, where after cresting the first hill was the largest pothole of the year just on the left hand bend, luckily it was marked with a very large road cone but had it been dark or unmarked it could have had serious consequences.

Across the A59 and a right turn to Thorpe Underwood and the roads turned into being; wet & muddy to muddy & wet especially past the vineyard, so a cautious pace was set through to Great Ouseburn, Lower Dunsford and into Boroughbridge then up to Listers Farm Shop where Tea and Hot Pork Pies seem to be a popular choice, but lack of seating saw us sitting outside in what was a 'fresh breeze'.
This saw Lawrence coining the Aussie phrase " blowing the froth of a few " as the 'fresh breeze' was blowing his Tea over the rim of his cup, much to the amusement of the gathered clan which changed to solemn disquiet as we payed our bills, Tea, porkpie & peas £7.70p please !

Suitably fed we set off for the Manor Farm Cafe, Leyburn with the thought of Meal of the day for lunch, south of Boroughbridge to Roecliffe then a right turn toward Bishop Monkton on drying roads but still the fresh breeze we made our way toward Masham, soon the roads began to be a mixed bag of dry, muddy, muddy & wet, following an Animal feeds lorry to ensure plenty of mud thrown up off the road, with leaf and tree litter (and a fallen tree across 3/4 of the road near Grewelthorpe) to keep you on your toes.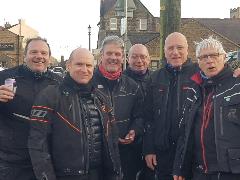 Into Masham and out onto the much enjoyed A6108 (Brymore TT) to Middleham, passing Brymore without a sideways glance Pete, and up into Leyburn and out to the Manor Farm cafe, only to find it closed so a quick consensus by all was to double back to Leyburn (' U- Turn ?? ') and head to Hawes on the Aysgarth TT Arriving in Hawes our back marker Lawrence Turner ( excellent job ) had to leave as he had family commitments, which saw 6 riders visit the chippie for a much enjoyed lunch, Tim then left us for his Family commitments albeit him being a little late, which left 5 to agree to stay as a group again led by Dave Hardcastle back toward Bradford via the stunning Deepdale road and through Kettlewell and from there each making there routes home.

Alan R

Here is the route: