Team 5 was very aptly named for today's ride out as there were only, you guessed it, 5 Yam members that arrived at Squires on two wheels. Others of course were there in their metal boxes with various excuses about the weather etc.
Whilst sat with Mugs of tea and bacon butties Mark Rodger, who was examining his weather app on his phone, announced to the group "Well the sun is shining on the east coast!!" (no surprises there then) so the leader was decided upon and it was announced we would set off for Hornsea.

Laurence (I've not yet arrived in Cumbria) Turner was elected as Back Marker as he was the only one resplendent in day glow yellow. And the briefing was duly completed. Mark ,followed by Steve Harrison, Andy Dickens and out guest for the day, Steve Annakin decided it was time to set off.
Enid Blyton would have been proud to write a children's book about this adventure as the "Intrepid Five" donned their gear, walked out to their magnificent machines, and set off turning right out of Squires and headed along the B1222 towards Sherburn in Elmet. We crossed the Milford Road at the traffic lights, straight on, negotiated the speed bumps and arrived at the roundabout at the junction of the B1222 and the A162. Here, Enid would have been proud to confirm, that the whole group showed magnificent maturity and patience whilst the learner driver in front of us stalled the vehicle three times and then discovered that wonderful of Australian inventions – Kangaroo Petroleum. Not to be deterred we all dutifully followed behind the learners car, none wishing to frighten her or confirm that bikers are all hooligans. Having negotiated the roundabout maturity and patience appeared to be thrown to the wind at the learner was dispatched to an insignificant dot in our rear view mirrors (those that still chose to use them of course).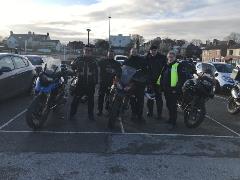 The B1222 was diligently followed as in many previous dash to the east coast. Through Cawood and passed Stillingfleet we travelled turning left onto the A19 and immediate right heading now for Skipwith. South we trundled, getting dirtier by the yard as we passed through Skipwith heading for the A163 which, of course, we crossed with ease continuing our journey south towards the A63. Turning left onto the A63 we headed towards Howden but our leader, clearly in need of a warming beverage and the toilet (but then it was cold enough the freeze the ……… brass monkey) turned left into the Water Wheel Tea Rooms. Here Hot Chocolates and tea were imbibed whilst one of our number enjoyed filling his lungs will all manner of noxious substances whilst remaining outside in the cold.
We were now given the choice, as all good leaders do, of the swift route to the coast or the fun route. Clearly, as Enid Blyton's charges, we chose the latter. So, off we set once more, Howden east criss crossing the A63 to find more dirt for the bikes. We saw Gilberdyke and Scalby on the B1230 we crossed over the M62 and visited North Cave turning South East along Station Road where we visited HM Prison Humber ( no one was detained as we all had our "Get out of Jail Free" cards with us). On we intrepidly went having not been phased by our prison visit passed the Potting Shed and The Ridings Medical Group on Sand Lane until, inevitably we joined the A63 to head for Hull. Heavy traffic in Hull but our leader was correct – the sun was shining the sky's were blue and not a sign of a cloud anywhere. On and on we went, nearer and nearer to the ferry port and then it hit me – no passport in my pocket how on earth are we going to make it to Holland. Alas we left the port behind and then, as in all Enid's books, I realised I had been day dreaming. I wonder is that how I ended up in Cumbria one Saturday afternoon 😊
Leaving Hull behind us our leader found many interesting road and curves as we wended our way, first along the A1033 and then the B1362 towards Hedon where we turned left into St Augustine's Gate (someone has clearly stolen it as none of us saw it). Travelling along St Augustine's Gate we passed St Augustine's Mews (she again was nowhere to be seen). Leaving Hedon behind we headed east, towards the coast. The many twisting and curving roads invited us all to have much fun BUT the Sun decided to slow our progress being so low in the sky it was shining directly up our noses rather than down on us from above. We really need to retrace these roads sometime between May and September PLEASE. Before we fell off land and into the North Sea we turned left onto the A1033 and headed North for Hornsea, but not before we arrived in Withernsea. What a wonderful large windmill I thought as we entered but where are its sails I wondered? Then I remembered we had not crossed over to Holland and that this was, clearly for all but me to see, a lighthouse.
On we went up the B1242 heading ever closer to Hornsea and that Sun insisted on appearing around many a corner, shining up our noses and making us wonder, where is this curve heading off to through that bright light.

Suffice to say we all arrived safely and had a really enjoyable lunch of Fish Chips mushy peas bread n butter and a pot of tea.
A wonderful ride out and thank you to our wonderful leader for taking us all, once again, to the magnificent East Coast of Yorkshire