It was a windy day at Squires as Pete Tidbal said he had a ride South as way of a change to the normal Dales / North York Moors routes, only to Balk with a Boiler Problem ( not Pete himself but the central heating one at home ), so Mark Rogers came up with Whitby as a choice only to be outvoted with the High Winds still blowing over the Moors, that Paul Rushton ( he of shiny new GS1250A with Gold wheels fame ) took up the challenge to lead us firstly to Patley Bridge for a new T&P stop, then onwards to Manor Farm Cafe for lunch, with Mark Rogers volunteering to cover the Back Marker duties.

With this decided it was 6 riders who left Squires with a right out the gate and a good pace quickly saw the small group heading out of Towton towards Tadcaster ( plenty of branch litter scattered around due the strong overnight winds) when a left was then taken to Sutton, ( new roads for some of the team ) out of Sutton and over the A64, across the A659 and a left saw us heading into Bramham, a Right / Left saw the team heading out on Thorner Road, ( large puddles of water were plentiful and the cross winds still strong enough to keep you on your toes ) through Scarcroft, and then after 20 minutes into the ride (Chris Otters favourite)! 'FORD' was seen and the shallow water quickly despatched and onwards to East Keswick and Left to Harewood.
A Right at Harewood traffic lights onto the A61 down Harewood Bank and over the River for the Left to North Rigton and picking up the nice twisty B6161 heading toward Otley.
Before reaching Otley a Right turn onto the B6451 saw us heading over to Lindley Wood Reservoir , a Left over to Swinsty Reservoir to the A59 for a left & Right for Thurcross and a nice twisty route led us onto the steep twisty Nought Bank Road that had us dropping down into Patley Bridge, Only for a quick 'U-Turn' at the petrol station junction as Paul had missed the entrance to a New Tea stop – The Teacups Tearooms ( 50p a mug of Tea and a warm cosy stop with plenty of room ), during the ride Pete made contact to say his Boiler issues were sorted and he would join us and after liaising with Paul agreed on the Manor Farm Cafe.
Everyone suitably refreshed as we made ready to leave, Chris Otter bid his farewells, so 5 set off for Manor Farm, a right out of the Tearooms and through Patley Bridge bearing left ½ way up the hill saw us heading over the Nidderdale tops to Laverton and a left just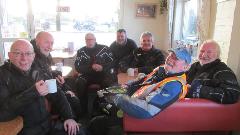 before Kirby Malzeard, which had us crossing a large flooded section of road before heading for Swinton and Masham, where Paul threw in a curve ball as most of us thought it would be a Left onto the Brymor TT to Leyburn, but no, a right out of Masham and off we go to Bedale, out of Bedale touching the A684 toward Leyburn for short distance, then bearing left for Newton-le-Willows, Back over the A684 toward Richmond before eventually taking a left toward Bardon Moor ( plenty of side winds to deal with along this stretch ) before a left into Bellerby and Manor Farm Cafe.
As we parked up Pete came around the corner bang on cue and all smiles, only for 10 minutes later Steve Harrison to join the group, ( he had attended a Biker Down seminar at Squires earlier in the day, (some saying as the 'resuscitation dummy') but not me Steve.!
While lunch was being taken it as decided to extend the ride to finish at Seaways, so 7 riders departed with a left out of Manor Farm toward Catterick then retracing the route back to Bedale, ( the winds dying down and the roads drying made for a good paced ride across to Skipton on Swale, Thirsk, Coxwald, Slingsby and Malton, out of Malton and off we set only to miss out the 'FORD' at Settrinton, and for another curve ball as we did a right before North Grimston and took a narrow twisty road up and down hills to eventually appear on the B1248 at Wharrem le Street, a right here saw us on the familiar road toward the Fimber roundabout for a right turn and the run up to Seaways, more Tea was taken and the group then split to make there individual journeys homeward.
Thanks to Paul Rushton for an excellent ride with some good interesting riding,( and new routes for some of us ) it was thoroughly enjoyed by all, and Mark for keeping our backs safe.