A Team5 working group meeting had been held first thing on this bright day and afterwards eleven bikers lined up for the Open Destination ride. Although Pete Tidball had been at the meeting other commitments prevented him from going on the ride and in advance he had lined up Dave Burton to lead the ride and had even provided a route with a destination of Brymor Ice Cream via the Old Barn at Balk.
After a detailed briefing all bikes lined up for the off with Dave in the lead and Phil Marshall providing back marker duties in a shiny new orange jacket. In these days of Hi-Vis yellow everywhere the orange really stands out.
A right out of Squires took us down through Sherburn and on through Cawood and Stillington into Escrick. Just the fringe of Escrick with the usual right and right again before making a left to head to Wheldrake. Turning left here we carried on through the lovely bends into Elvington and then briefly on the A1079 before swinging left to Stamford Bridge.
Out of Stamford and on the way to Sand Hutton Dave made a strange turn left away from Sand Hutton and back towards the A166 followed by another left back towards Stamford Bridge. Was this a "U" turn we asked ourselves only to see Dave turn into an empty Pub car park to make another "U" turn! Was this a "UU"turn or a "W"turn? Answers on a post card please. ( We discovered later Dave had spotted a way point somewhere along the U turn which he had to pass to avoid fouling up the route)
After the excitement we carried on through Sand Hutton, Claxton and across the A64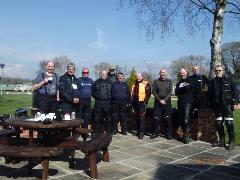 through Flaxton. Onwards to Sheriff Hutton and then a left down the twisty route through Farlington and on to Stillington turning right to Brandsby and left to Crayke. Right out of Crayke through Oulston, Coxwold and Kilburn before arriving at Balk for a well earned tea stop.
After the break a couple of people headed off home whilst the rest of us set off on the second half, up to the A170 towards Thirsk before turning sharp right to Felixkirk and brushing the edge of the North York Moors National Park before turning right in Upsall (blessed with a 19th Century Town Hall) towards and over the A19. We then turned left to Thornton Le Beans (where do these names come from) and then left and right across the A168 Northallerton Road. On through Thornton Le Moor and left at South Otterington onto the A167 and then right on to the A61 at Busby Stoop before going over the bridge at Skipton on Swale and turning right towards Ainderby Quernhow.
We were now on the B6267, I'm sure you're all familiar with, with lovely sweeping bends under the A1M and going almost all the way, bar a last right turn into Masham. Once through Masham we rode the equally lovely sweeping bends of the A6108 up our destination at Brymor.
Brymor do normal food as well as their famed Ice Cream but I guess you won't be surprised to learn that some of us succumbed to Ice Cream as well. A lovely ride out, thanks Dave for leading and Phil for his faultless back marker duties. Also thanks to Pete for providing the route.