With Dry weather forecast, It was a good turn out for the pre official season start, and as no one came forward with any fresh ideas for a ride, Chris Otter's idea of using an old run saved in his Sat Nav was accepted. We had 17 riders lined up for a re - run of last years ride to the 2 listed destinations.
A Right out of Squires into Sherburn, Left at the church and a Right just after the pond into Saxton, through the village and a Right turn to Towton, Left to Tadcaster and the normal route out toward Thorpe Arch before the regular Right turn, over the Tockwith road ( B1224 ) and then a Left taking us over the A1 before turning Right onto the B6164 to go through Little Ribston and into Knaresborough and the offset junction for the A59 / B6164, to be greeted with Temporary 4 way Traffic Light controlled road works and an eternity of waiting for the sequence to change, Luckily for me, at the next 'T Junction' and the Right turn onto the A6065, I decided to stall and fall off ( Getting to be a habit on T5 rides – you know – wrong gear, wrong time ETC ) but with only a few riders to witness my error, Phil was marking the junction so helped me pick the bike up!!, as the rest were at the road works Traffic Lights or still travelling at least, but word soon spread.
So off we go out of Knaresborough toward Farnham, Ocaney and Copgrove, through Burton Leonard to Join then Leave the A61 at Wormold Green and heading down the steep twisty Dole Dam road before a left and the run to Ripley Castle for a well earned T&P stop, and although the group was fairly large the marking and keeping together was pretty good, This is where a nice lady said she would take all the orders to stop any confusion, Ha Ha, Oh Yes plenty of confusion followed with wrong orders, No orders ( Laurence it must be just you ) and just general , well !!!, eventually we got what was requested ( apart from Ashley who lost his Panini ½ way through :):):) he was told it was the wrong one!? )
The usual Team Piccy taken ( we had to get up close and personnel ( or as Pete said, Squeeze in !! ) ) due to the large gathering ( some being larger than others ) we then got ourselves ready for part 2, Ashley Sykes & Jeff Linwood leaving us at this point, so with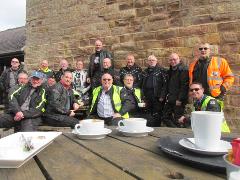 only 15 to head to Bellerby off we set with Chris opting to omit the original route of last years going through the gate onto a footpath and eventually doing a 'U TURN', to just turning Left back to the roundabout for a left toward Patley Bridge before turning Right for Brimham Rocks then turning back toward Fellbeck and cutting across to Wath and the Right onto the twisty route past the reservoir to Ramsgill, Lofthouse and up and over the tops, with stunning views all around today being clear Sky's and dry weather.
Past Leighton Reservoir and onto Masham before a Left and the much loved Brymor TT ( A6108 ) and the usual route up to Leyburn and the run into Manor farm Cafe in Bellerby for our Lunch break, taken outside in the sunshine, after lunch we lost a few more of the team as they headed for home while the remainer's opted for Pud at Brymor's and Chris led the way, Back to Leyburn and straight on toward Hawes before turning Left onto Gale Bank road and down to The Forbidden Corner ( seen the sign, but never been until today ) on a lovely new route with a decent road surface that arrives in East Witton ( the village with the sharp right bend / village square all in one ) and a Right Turn on towards Jervaulx Abby and the EAGERLY AWAITED Brymor Ice Cream Parlour and a Double Black Cherry / Chocolate Cornet for me.
Thanks to Chris for leading and Triumph Tiger 800 man for back marking ( sorry forgot your name ) and all who made it an enjoyable ride.