A relatively short and leisurely ride to Boroughbridge. And a warm welcome to Richard Williams who joined us for his first ride with T5. Twelve T5ers left Squires and headed for the coffee stop at Muddy Boots Café at Harewood, passing through Aberford, Thorner, Linton, and Kirby Overblow. Sitting outside in the pleasant Spring sunshine at Muddy Boots, we were joined by Ducati John and PJ, and overhead by a few Red Kites.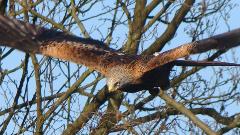 After 35 minutes it was time to saddle up and head off to Boroughbridge, passing through Weeton, Huby, Beckwithshaw, Ripley, Staveley, Bishop Monkton, Roecliffe and then into the car park at the rear of the café.
All in all a fairly uneventful ride apart from a problem with a white Volvo in Linton. I wasn't aware of the shenanigans as it all happened some way behind me. But it did explain the big gap between myself and the rest of the group.