With Easter Weekend weather promising to be potentially a new record Saturday dawned a busy day at Squires and ten bikes lined up for Pete's ride to the Dales.
After a comprehensive briefing and with Phil Marshall lined up as back marker the group set off. Right out of Squires and down through Sherbern and following the interesting route through Caywood, Escrick, Wheldrake and Elvington before the heavy Easter weekend traffic brought things to a halt trying to turn on to the A1079 Hull road. Eventually we all got through to find the next bottle neck at Stamford Bridge but with some pushing and shoving and some courteous car drivers we managed to get through reasonably quickly.
By now, knowing we had to cross the A64, we were wondering what fate awaited us and we weren't disappointed when the usual slick left turn from the Claxton road had traffic backed up almost into Claxton. Not to be out done Pete set off on some opposite lane filtering, followed religiously by the rest of us with an interesting cut through to turn left at the junction. A right turn through Flaxton then took us away from the traffic and up to Sherriff Hutton turning left down to Farlington, through to Stillington and right up to Brandsby. Turning left in Brandsby we were now heading across country towards Coxwold heading straight through and then turning right towards Kilburn.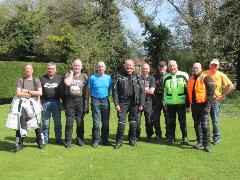 From here it should have been a short scamper on to Balk and the Old Barn but no, it wouldn't be a Pete ride without a U turn and sailing past where we should have turned left we all followed dutifully knowing what was coming. After completing the manoeuvre we now turned right to Balk and arrived at the halfway stop. Sunny weather allowed a seat outside and some great service by the Old Barn Team.
Suitably refreshed some went their own way and the balance fell in behind Pete for a romp up towards Richmond. Turning right out of Balk we rode to the A170 Sutton Bank road turning left and then first right for a cracking route across to Northallerton via Felixkirk, Upsall, Knayton and Crosby. Quickly in and out of Northallerton we then turned towards Yafforth and up the glorious B6271 to Richmond. This road was relatively traffic free and little hindered our progress however Richmond saw a return to busy traffic although all roads were flowing freely. Unfortunately through the traffic Pete lost sight of the second bike and the ride became a bit like the chase scene in the Italian Job. After a couple of phone calls we managed to join back up and headed off down the fantastic A6108 through the Dales National Park before arriving at Manor Cafe just as some of our other Team 5 colleagues were setting off.
Again it was lovely and sunny (24 degrees had been recorded during the ride) and after lunch outside it was decided a cooling ice cream would round off the day, Brymor here we come!