The weather forecast for the day didn't look promising however Tony's choice of a ride to Malham proved very effective at missing the wet stuff apart from a very short hailstorm over lunch (more of that later).
After a detailed briefing nine bikes lined up with Dave Hardcastle on back marker duties whilst also getting his ride check done by Ian McNeil. Left out of squires Tony opted for a brief spell up the motorway to get us all up to Collingham in double quick time and from there the ride started proper. Swinging right out of Collingham towards Linton and then left by the golf course towards Sicklinghall, Clap Gate (another fine english name) and Kirby Overblow before meeting the A61 out of Harrogate and turning left. After a very short stint on the A61 we turned right towards Weeton before meeting the A658 and turning left towards Pool in Wharfedale and then right towards Leathley but then left over the bridge towards Otley. A lovely scoot along here before we then slipped through the edge of Otley and on to our first stop at Cockpit Farm, Weston.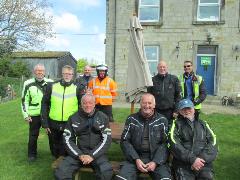 A nice cup of tea, some had nibbles as well before a team piccy almost accompanied by the hens and then it was back on the bikes for the second leg of the ride.
Continuing on the same road and royally waved off by the Kiddies at the cafe we pressed on passed Askwith and on the Denton Road which eventually runs by the side of the River Wharfe. Normally this road is teaming with cyclists but whilst there were a few I suspect most were busy watching the Tour de Yorkshire which fortunately was over on the East Coast today. As we reached the edge of Ilkley a right turn towards Middleton and then a further right towards Longbar as we now entered the Dales National Park. Through Beamsley and on to the A59 just before Bolton Abbey roundabout, we left here on the lovely B6160 past the Abbey and followed this road for quite a while eventually turning left towards Eastby and on through Embsay before dropping down to the edge of Skipton. Out of Skipton we crossed the A65 to pick up the great B6265 towards Grassington, at least some did, owing to a marking error three bikes turned right on to the A65 closely followed by Dave as back marker frantically making U turn gestures. After performing the obligatory U turn we were soon all back on track and off towards Grassington. Before reaching Grassington there was a left turn in Rylstone (too cold for naked ladies today) and the route continued through Hetton, Winterburn and Airton. Through Kirby Malham and we arrived at Malham for our lunch stop at The Old Barn.
As the sun was shining we sat outside for lunch whereupon a rogue cloud decided it was time for a hail shower, Dave suggested it made for crunchy croutons in Pete's soup. By the time a member of staff had unwound an awning the hail had gone and fine weather returned.
Suitably refreshed we resumed, going up over the top and passed Malham Tarn (some 1350 ft above sea level at this point) and on through Arncliffe and Hawkswick Cote before picking up the B6160 again through Kilnsey and on towards Grassington. Bypassing Grassington we stayed on this fabulous twisty road through to Burnsall where we turned left over the bridge and on towards Appletreewick, through to the B6265 down Greenhow Hill and into Pateley Bridge where the ride ended and we grouped up to head off in different directions home.
A fantastic day's ride, thanks to Tony for setting it up and Dave for back marker and sweeper duties.
Copy of the route below.