Winter Season Ride
Saturday 30 Nov 19
Manor Farm via Teacups Patley Bridge
Leader: Paul Rushton
BM: Cedric
8 Hardy Souls lined up for a chilly ride to Manor Farm Cafe at Bellerby, with Cedric offering to do Back Marker, Dave Hardcastle leaving early to get Fuel at Tadcaster, and so a steady pace was set due to the cold weather, as we headed out of Squires , along to the Traffic Lights in Sherburn and a left to Tadcaster, and then along to Wetherby and out to Knaresborough. The Temperature hovering between an icy 2 & 3 Degrees, and a weak Sun trying to warm things up, and plenty of Road Salt having been spread, made for a greasy surface, keeping us at a steady pace and nicely grouped together as we headed through Knaresborough and out toward Ripley and then Patley Bridge and a welcome T&P Stop at the Teacups Cafe.
During the Tea stop, a discussion to the route up to Manor farm was taking shape and 'staying on the major roads' seemed the answer, as we mounted up to leave Patley Bridge and out to Lofthouse, a somewhat slower pace than is usually taken up past a Full Gouthwaite Reservoir to Ramsgill, the section of road between Ramsgill and Lofthouse being particularly bad with plenty of mud and debris on the roads.
A left turn in Lofthouse took us up onto Pott bank road and the temperature hit a balmy 4 degrees, before the steep downhill stretch to Leighton Reservoir, the roads covered n frost where the Sun had been shaded from the roads, but everyone took a nice steady approach and kept off the frosty bits, and over the Bridge ( another full reservoir ) and onwards to Healey where Adam came to halt with a punctured rear tyre, Cedric keeping an eye on him as the rest of us continued on out merry way, letting the riders marking junctions know of Adams issues. And so we all carried on to Manor Farm for Lunch, Adam, Cedric and Dave Hardcastle arriving as a separate group, Luckily the Garage at Manor Farm was open and while Adam had his lunch, repairs to the tyre so
all was well for Adam.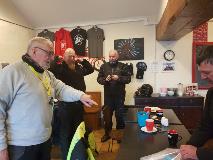 After lunch every made their separate ways home, some to get ready for the YAM annual dinner bash, No Team piccy was taken , I managed to grab this one prior to everyone leaving for home, Thanks to Paul for an excellent ride in cold conditions and Cedric for looking after everyone especially Adam